The Heart of It All
Winner - contemporary fiction - 2015 Independent Publisher Book Awards

John Ritter, a frustrated artist, demonstrates that self-destruction can be a form of protest—or maybe just the last resort for those who refuse to grow up. After years of adventure on the West Coast, he returns to Cincinnati to care for his grandmother, who suffers from Alzheimer's, and to protect her farmland from commercial development. Still in love with his ex-girlfriend and his youthful ideals, John lives in denial of the facts that his ex has moved on, that he is ill-equipped to serve as a caretaker, and that his life is in limbo.

Unreliable, unstable, but hilarious and brutally honest, John's artistic sensibility and his job as a landscaper make his situation even more maddening. Wearing his wounded heart on his sleeve, he turns his life into a piece of performance art that involves late-night graffiti raids and car theft. He aims to illustrate how the forces of love, freedom and individuality can triumph over greed, conformity and corporatization. In the eyes of those around him his project is a failure, but for the reader it offers a dangerously veering joy ride.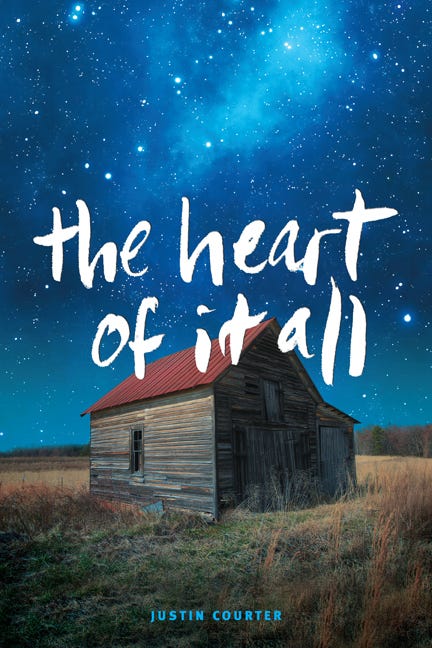 "A moving, amusing novel offering a mix of wry observation and touching moments of intergenerational connection."
— Kirkus Reviews (read full review here)

"Justin Courter's The Heart of it All is a little bit mid-life-crisis, a little rebellious and extremely engaging."
— Left Hand Valley Courier
"Justin Courter's The Heart of It All is a trenchant critique of contemporary American culture in the guise of an always amusing and at times hilarious coming of age novel (though granted our hero, the hapless John Ritter, is taking his time on the coming of age part). Courter is a wickedly funny writer with a sharp eye for the ugliness in the ordinary and the beauty in the bizarre."

─ Ed Falco, author of Sabbath Night in the Church of the Piranha: New and Selected Stories, and the New York Times Bestselling novel, The Family Corleone
"If Jim Harrison's Brown Dog were mind-melded with Holden Caulfield, you'd probably end up with a guy like John Ritter, the well-meaning protagonist of Justin Courter's assured and very funny new novel The Heart of It All. Here is a writer who sees the world in all its beauty and disgrace, one who shows it to us in ways we haven't quite seen before now. Every page offers up a treasure."

─ Christine Sneed, author of Little Known Facts, and Portraits of a Few of the People I've Made Cry: Stories
"This lively caper from novelist Justin Courter stars thirty-year old John Ritter, who could be CEO of The Monkey Wrench Gang, attacking billboards and nouveau riche landscaping with his social commentary vandalism. A fast moving adventure, not unlike The Graduate on steroids, John lusts after the chubby middle-aged director at his grandmother's senior center whose genuine goodness is converted into a hilarious sexual attraction. John still chases his lost love, the once free spirited Carla, from fantasy to reality at the end of the story.

But the heart of the novel is John's love for his grandmother, Beatrice, whose loss of grip on reality is both touching and funny. We learn her own fame was permanently stolen by her now deceased husband while John mimics the Pixie heroes in their famous children's books, who get into terrible trouble early in the pages yet always find their way to safety.

Through Courter's razor sharp metaphors, we see vivid images of his people as we get to know them, often reminded of our own crazy friends and off-center family members, added to the reality of the cruelty of aging. But John Ritter, "bless his heart," as my own grandma would have said, is one lovable character."

— Sylvia Wilkinson, author of On the 7th day God Created the Chevrolet and The Stainless Steel Carrot: an Auto Racing Odyssey